14 years ago I got my second computer [1]
It was a
Macintosh LC 475
, fondly called the pizza box.
Here's a picture:
I was used to live in
Patiala
then and we had to drive to
Chandigarh
- a good 60 kilometers to buy a computer. We went to this "computer expo" ( I forget the actual name, it's been 14 years after all) and the choice was between an IBM PC running Windows 95 and an Apple machine running
Mac OS System 7
( that's a good 9 versions before Snow Leopard! ).
As a kid I remembered seeing "Mission Impossible" and
all the good guys used Apple machines while the baddies used IBM machines

I wanted the Apple machine. Dad wanted to buy the IBM machine for two reasons:
1. It was cheaper
2. The dealer promised me that "Windows 96" was right around the corner ( Yes, you read that right "Windows 96 - the next version of Windows 95" )
I insisted on having the Apple macs and after a brief fight and a one-month long waiting period, we got the Apple Mac LC 475. It ran a Motorola 68040 CPU running at a mind-boggling 25Mhz with 4MB of RAM and 256kbytes of video memory and a whopping 640MB of hard drive space. I still have this machine in my house in Kolkata and it still boots :)

I started writing programs with HyperCard and while it was cool, I didnt see any command prompt to type in cool commands like "Computer network security override". Of course I didn't know what a command prompt was then, but I knew I wanted it.

After all, System 7 used to look like this
While Tom Cruise's Apple machine used to look like this: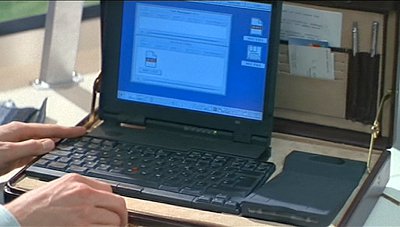 Clearly the UI was different.
Then I came across a
PCQuest
. It used to be a geek-focussed magazine then - it's a boring CIO focussed magazine now. In article written by
Atul Chitnis
I read about something called "Linux" [2]. And most importantly, PCQuest came with a CD of Slackware linux. I cannot recall the exact version. But I remember that Slackware was for the x86 architecture and thus it could not run on my Apple Mac.
A year had passed, I got good results and I got a
PowerMac 7300
It had a top-of-the line
Power PC 604e CPU
. It was also the time when Apple was in the midst of its first transition, from the Motorola to the PowerPC architecture.
It also had a CD drive and I bought my first VideoCD -
"Terminator 2: Judgement Day"
What is important however, is that the PowerMac came with a very interesting piece of software from Connectix (later acquired by Microsoft) - called the "Connectix Virtual PC". It could emulate the x86 architecture on the PowerPC, enabling people to run MS Windows 95/98 on the mac
(Note the System 7 Tabs underneath the windows task bar and the ethernet / hard disk lights. Virtualization on SOHO segment computers is nothing new - I had this in 1998. Mainframes have been doing virtualization long before I was born - from the 70's )
Once I got Windows 95 running the Mac, I remembered that the Slackware CD from PCQuest came with detailed instructions on how to setup Slackware on a "PC". Since I had a Virtual PC I decided to give it a shot.
After around a week of effort ( it was 1998, I was in Class Xth and I had no internet connection) I managed to install Slackware on my box. It would be one whole year before I got (what I used to call) "X Windows" running on my machine with
Tabbed Window Manager
running on my mac. This is how TWM looks:
While it took me a year to get X running, it wasn't without it's joys.
I found out what modelines were, how to write my own X configuration files ( and running X -configure multiple times). I learnt how to compile the kernel, load and unload modules. I would watch compilations all day long. And since this was a virtualized environment, I rarely got any benefit of the long and slow complies. But I loved the
"make config"
and the
"make menuconfig"
scripts. ( one would run the kernel compile configuration in console and the other in an
ncurses
type interface )
My biggest achievement was writing my own man page. Slackware shipped with a package which had the entire
The Linux Documentation Project's HOWTO's
tarballed and that was an education in itself. I decided to write my own "man page" ( a Unix Manual page ) and started reading through the offline copy of the
Man-Page HOWTO
that shipped with the distribution.
The day before my Class Xth board exam I wrote an man page for a shell script that I'd written using
nroff
My love affair with Unix had started.
========
Footnotes:
[1] My first was the Sinclair ZX Spectrum +
I was around 10 years old then. The first thing I did after getting the computer was to type "What is the population of the world" in the BASIC prompt. To my dismay it did not give me an intelligent answer; it said it could not recognize the command. I thought computers knew everything!
[2] = Many people prefer to call it "GNU/Linux" as well.